PCShop Battlefield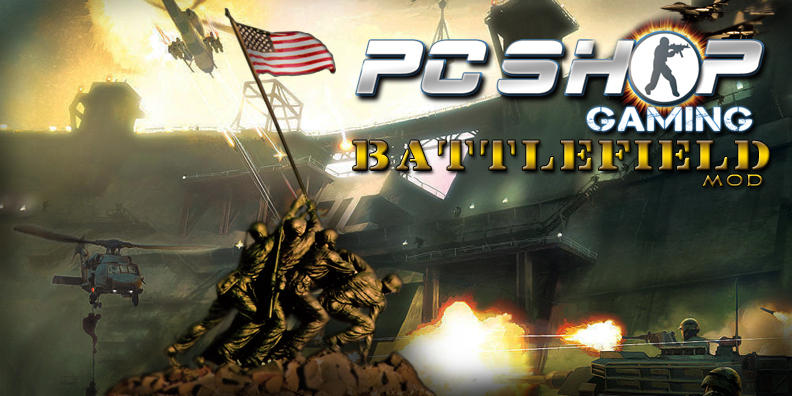 Premise
Once upon a time, PCShop owned the greatest server in all of CS. This servers name was [BF2 Rank + Flags + CSDM]. Over time, this servers popularity grew and grew. In fact, because of this server, many older community members decided to join and play in PCShop servers. After nearly 2 years of prosperity, popularity began to decline. Eventually, nearly one year ago, Tirant was forced to shut it down finally to try and do new things. Today, that memory of what our old server was, inspires the new and (hopefully) better mod.
Gameplay

The main thing that was really revolutionary about the BF2 mod was it's decision to run CS Flags. Many people had never seen this mod before, so it was really interesting and drew many players. This same flag gameplay will be what the mod is based around. Essentially, each round is a domination-style flag match. What that means, is both teams compete to secure all objectives. If one team secures all objectives, then that team wins the flag round. Each map requires that 4 flag rounds be won in order for one team to win the match. There is, however another feature, and this is in the form of spawning. Battlefield operates using a ticketing system, where each team receives a specified number of tickets per round. These are basically just respawns that you team has. When they run out, you play until all players on that team are eliminated, or both teams still have the option to capture all flags. You can have 0 tickets and win the round by capturing all flags.
Experience

A main intriguing feature that draws players is the ability to gain experience. Players the satisfaction of experience because it gives them a long term goal, and also something to really work for. BF2 mod had 21 ranks, only 18 or so were actually attainable due to bugs. MW2 had 70 ranks. Battlefield will have 50 ranks. This is a really nice even number that will make your leveling last, and also keep the mod entertaining by having the levels somewhat evenly spaces and not 1 level every week. There are also many different ways to gain experience other then killing other players. To read about all ways to gain experience, read the Leveling/Experience guide.
Badges
In addition to experience, there is a huge and complex system of badges. Badges are basically a system where players earn points through accomplishing various tasks. These tasks start out easy, and then eventually get harder so that you have to work for what you want. Each badge rewards you with special bonuses that will load and become available to you every life. An example of this is the Rifle badge, where players must kill other players with an assault rifle, and then they will earn an extra 5 health every level of completion. These bonuses are nothing major, but they add up and will help you play in no time. For more information on badges and their bonuses, check out the Badges and Bonuses guide.
Classes and Tiers
Originally, BF2 mod used a CSDM system where players pick their weapons, whatever it may be. The exception to this being that they must buy the AWP in order to use this (to make it something you gain). In a somewhat similar way, Battlefield does this same thing. The difference is the addition of Classes and Tiers. Basically, players spawn and choose from one of many classes. Each class has sort of a simple theme that is reflected within its many tiers. Each first weapon in a class is usually some form of a normal CS 1.6 weapon, that would have been attainable through CSDM in the old BF2 mod, the different with Battlefield is that players have the option to use both those old ones and some new ones. No CS 1.6 gun, or custom weapon is like its normal counter-part. Each weapon and crafted and balanced to make it something new. Each higher level tier may or may not contain a better weapon. The reason why they aren't necessarily better is so that higher level people do not kill all low level people. Each new tier for every class is unlocked every 10 levels (10,20,30,40), and is available every life. Another feature is the random class feature. This is a system where players may purchase to use a random class in a specified tier and then they can use this class's tier until they die and respawn. This adds balance and something to keep lower level players interested. To read more on the classes and tiers, check out the Classes and Tiers guide.
Stats and Ranks
An old feature from BF2 was the stats system. Similarly, Battlefield uses a very intricate stat keeping function. Not only does the server track the total kills grossed from every player, but it also keeps track of flag captures, the highest level player, and the most killer per every badge. This acts like a leaderboard system so that players have something that they can work for and try and get their name in shining lights. In addition to this server leaderboard, there is also a system to maintain individual stats. In individual stats, players kills, deaths, badge progress, rank, kill to death ratio, and flag captures are also stored and viewable by everyone. Now you can show your friends and work to improve your game.