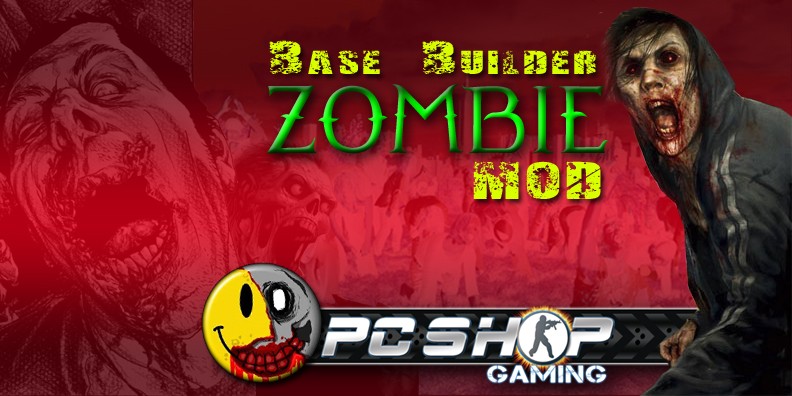 Thank You Kaboom!
Greetings,
Our good friend [PCSHOP] Tirant has been working tirelessly on his new mod in the past few days/weeks. He has an affinity for ZOMBIES, and he's taken it and turned it into a
very
unique mod that
can only be found right here in the [PCSHOP] Community
!
[Base Builder 7.2 ] @ PCShopCorp - 68.232.164.155:27015
(Formerly as his Zombie Apocalypse server)
Here's the basic premise:
If you are on the Terrorist team
, you are one of many vicious disgusting reanimated corpses, that have 2000 HP, and are hungry for human brains. You are an unstoppable horde of the undead, and you keep on respawning over and over until you get every last human. You will wait behind an invisible wall and watch the humans, and after 2 minutes 30 seconds, you will be released to wreak havoc!
If you are on the Counter-Terrorist team
, you are going to use that 2 minutes and 30 seconds wisely, to work together to build a base to hide from the infected, and try to last until the timer runs out! At the beginning of the first round, there will be a massive pile of materials (doors, ledges, boxes - building materials). You will
bind a key
to +grab bind and begin arranging the items to build a fortress to fend off the zombie attack. You have normal 100HP, but unlimited ammo. You have to work together to survive!
It's incredibly fun, and a pretty genius idea by Tirant. You should know that it is in the BETA stage right now - so do not rage if something doesn't quite work 100% correctly. Report all bugs / glitches / ideas in the Zombie section of the forums, and enjoy!
Thanks,
-[PCSHOP] Dave`